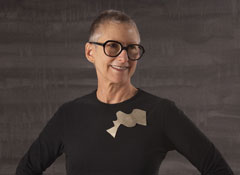 BIO

Margaret Nomentana makes non-objective paintings and collages. She began painting seriously in the early 1970's, before moving to Los Angeles to join the Feminist Studio Workshop. At the Corcoran School of Art in Washington, DC. She received awards in Painting and Design. She holds a MFA from Goddard College, a MA in Sociology from the New School for Social Research, and a Professional Certificate in Interior Design, from UCLA.
In 1994, Nomentana moved to the White Mountains of Western Maine, where she enjoys the solitude of her studio in the woods. She is also a part-time New Yorker, or at least she was, before Covid 19. She also enjoys teaching art.
Her paintings are in private collections in Maine and across the country.
Nomentana grew up in Baltimore, Maryland.